MSMEs are the growth accelerators of the Indian economy, contributing about 30% of the country's gross domestic product(GDP).In terms of exports,they are an integral part ofthe supply chain and contribute about 40% ofthe overall exports. MSMEs also play an important role in employment generation, as they employ about 110 million people across the country. Interestingly, MSMEs are intertwined with the rural economy as well, as more than half of the MSMEs operate in rural India. To ensure that MSMEs continue to lead the country towards economic growth, the Government of India has from time to time announced various schemes to support the development of this sector. However, despite all these initiatives the MSMEs faced various challenges which are hampering their growth potential.

In order to address the specialized needs of the MSMEs, the Institute of Chartered Accountants of India through its committee on MSME and Startup has taken an initiative to bring the expert services of the Chartered Accountants within the reach of any MSME with a click of the mouse.

CAService Exchange is a platform through which any Indian MSME can register with the ICAI MSME ECOSYTEM and search from an array of expert services offered by Chartered Accountants.
Registration of the MSMEs

Register as a MSME Business Consultant: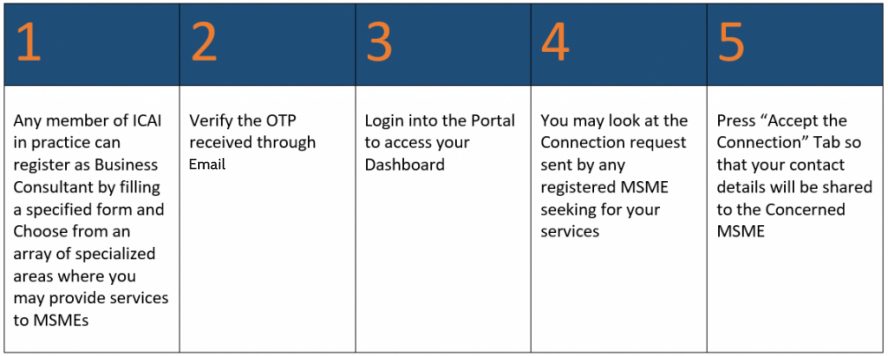 Register as MSME Business Consultant
Disclaimer : It may kindly be noted that the role of ICAI is to only facilitate the networking between interested parties. The views, information and opinion expressed are solely those of the individuals involved and do not necessarily involved those of the Institute of Chartered Accountants of India or its employees. ICAI is not responsible and does not verify for the accuracy of any information provided by the individuals. The documents and information displayed in this website are for reference purposes only and does not purport to be a legal document. ICAI does not warrant the accuracy or completeness of the information, text, graphics, links or other items contained within this web portal. As a result of updates and corrections, the web contents are subject to change regular