MSME HELPDESK:
Realising the need of an hour to strengthen the MSME sector the Institute has constituted Committee on MSME & Startup as one of the prominent nonstanding Committees of the ICAI. The main objective of the Committee is to undertake capacity building measures by developing a sustainable framework for the Indian MSMEs. ICAI MSME ExCHANGE is an umbrella programme to provide an enabling ecosystem to MSMEs for knowledge sharing, availing expert services and demystifying important concepts.
WANT TO HAVE FACE TO FACE RESOLUTION OF YOUR MSME QUERY ?
The MSME HELPDESK is one of the significant initiatives taken by the Committee under ICAI MSME Exchange to bring the expertise of the large pool of the ICAI members to the MSME doorstep in their local city.

The 164 branches and 5 Regional Councils which are extended wings of ICAI would facilitate the MSME HELP DESK in branch premises where dedicated experts (qualified and experienced Chartered Accountants) will address the issues of local MSME cluster.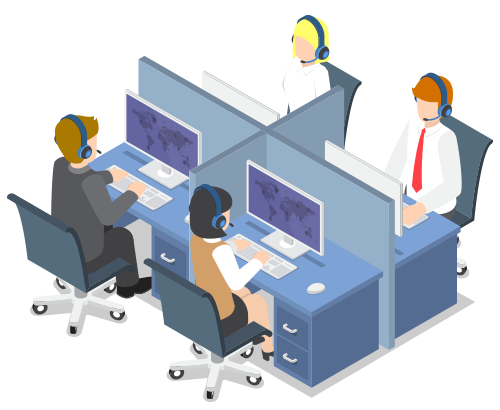 Any MSME can register with ICAI MSME Ecosystem and seek for ICAI helpdesk services through its dashboard

• Instant Query Resolution of MSMEs
• Point to Point handholding by creating awareness about Government schemes
• Pro-bono services for sustenance of MSMEs during Critical times
• Never Miss your Deadlines- Assistance in meeting various Compliances
• Expert advise in managing Finances
• Enhanced productivity through timely guidance
• Opportunity to Network with elements of MSME ecosystem
• Improvement in learning curve of MSMEs through specialized attention to specific issues
Members of ICAI can register to provide their services at ICAI MSME Helpdesk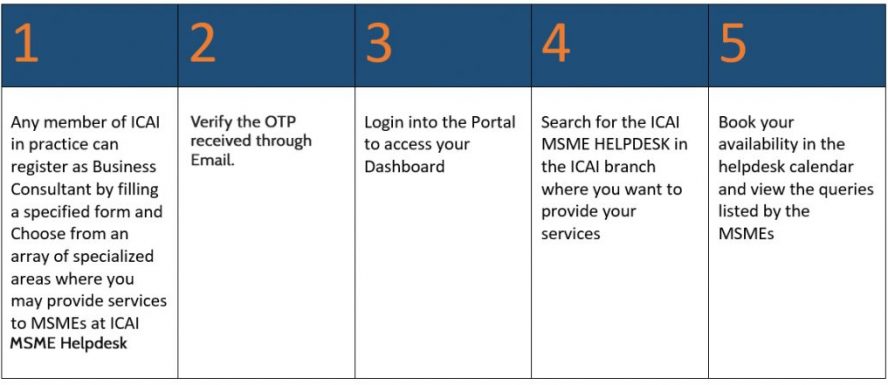 Register as Business Consultants for ICAI Helpdesk
Disclaimer: The Views expressed by the experts shall not be treated as the views of The Institute of Chartered Accountants of India. ICAI shall not accept any responsibility for the response to the queries raised nor does the lCAl guarantees any resolution for the same. This facility purely a pro-bono service by ICAI for ensuring smooth functioning of MSMEs in the country. Further, the ICAI Helpdesk in physical mode will only conducted subject to the government guidelines related to social distancing